No matter how much experience you have with Microsoft's Windows, it can still be improved by turning to software and tools that can make the operating system that much better.
Take Windows 11, for example: When Microsoft introduced it with extremely strict system requirements in autumn 2021, it was only a matter of time before those barriers could be circumvented.
In order to install the new operating system on older PCs, the registry first had to be changed manually. Later, this could be simplified with a batch file, and now even that is superfluous thanks to Rufus, a small tool for creating bootable USB sticks. Now, with just a few additional mouse clicks, you can run Windows 11 on almost any computer.
Let's start this look at helpful, dead simple Windows software with that very program, before diving deeper into several different categories.
If you'd prefer to wade into a deep, powerful program, check out our guide to Microsoft Sysinternals, the best Windows troubleshooting tool.
Download the installation file for Windows 11 from Microsoft via the option "Download a Windows 11 disk image (ISO)."
Now insert a flash drive with at least 8GB of storage space into the computer. Start Rufus, click on "Select" on the interface, select the Windows 11 ISO file, and then click "Start". The "Customize installation" dialogue then appears, giving you an option to avoid Windows 11's obligation to set up an online account. Follow the setup process until Windows 11 is installed.
This Rufus-loaded flash drive will not only reinstall Windows 11 on any PC, but also upgrade any Windows 10 installation via the setup.exe file!
If you want to move an older Windows 10 system 1:1 to a new PC, we recommend Easeus Todo Backup. With it, you create an image of your old computer's storage, from which you restore your system with all settings, programs, and data on your new PC. In addition, Windows 10 can then be upgraded to Windows 11 without any problems.
To install an older Windows version – for example Windows 8.1, 10, or 11 version 21H2 – save it to your storage with Windows ISO Downloader and create a setup flash drive from it with Rufus.
Depending on the Windows version, the hardware and the history of the PC, you may need a product key to activate the operating system for the new installation. You can read this key on your existing system with Showkeyplus.
Reset Windows Update Tool solves various update problems: Almost 20 features are available after starting the program with administrator rights.
If you have installed several versions of Windows, Linux, or other operating systems on your computer, you can use Easy BCD to adjust the boot entries and their prioritization.
Creating a flash drive as a multiboot system for booting different live systems was a complex matter for a long time. Ventoy fundamentally changes that. With this tool, all you have to do is make the flash drive bootable by clicking on "Install" and then simply save the ISO files on the stick within Windows. After booting from the flash drive, you select the desired live system via the Ventoy interface. The key benefit here is you don't need to create a new bootable flash drive when a new system version appears, but simply replace the older one with the new ISO file. Another plus: You can continue to use free space on the USB stick to save and transport your data.
2. PC start-up, optimisation, error analysis, hardware & drivers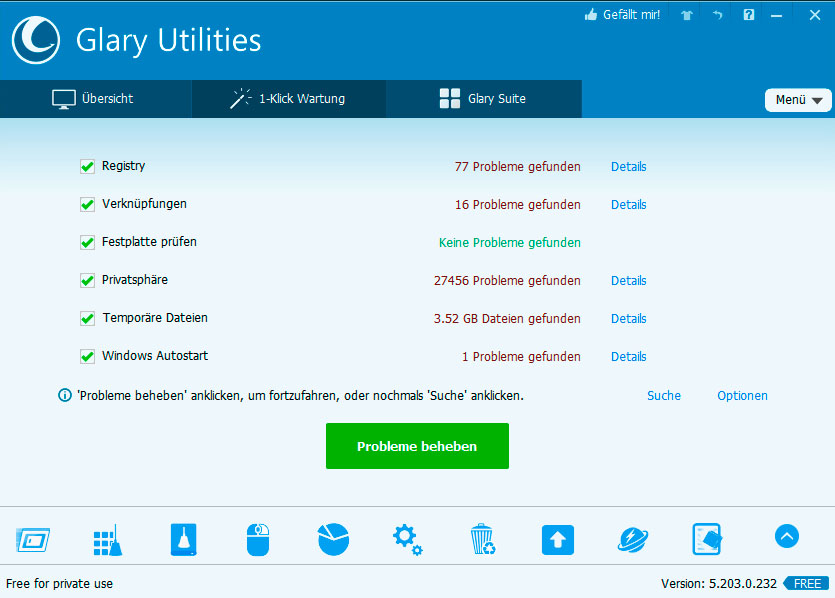 IDG
The promise of "1-click maintenance" is hit or miss on the PC. The causes of possible errors are too varied and the solutions too complex. That said, Ccleaner and Glary Utilities are always worth a try. You can start the system analysis and the subsequent problem elimination with just one mouse click.
Bootracer requires a few more clicks. The program analyzes the start-up process and breaks it down into individual segments. This shows at a glance which process or autostart program has a problem. You can choose to start the boot analysis as a normal complete Windows start, or limited to the system without autostarting software. The wizards make it easy to use Bootracer, including the necessary restarts. You can see in the details where and why your start-up may take an unusually long time. These limitations help to get to the bottom of the cause or, if it makes sense, to exclude the software in question from autostarting when Windows loads.
The analysis tools Hwinfo and Speccy show whether something is wrong with your hardware. Both programs provide a wealth of information and sensor measurement data. Even more information on your processor is provided by CPU-Z and Core Temp, while GPU-Z digs deep into graphics card details. Unknown Device Identifier is helpful in identifying unknown components; the tool shows many more components than the native Windows device manager.
Memtest86 tests the main memory for errors, while Crystaldiskinfo analyzes SSDs and magnetic hard drives by reading out the SMART parameters. A look at the "overall status" shows whether everything is OK. The tool sounds an alarm in the event of abnormal values, which is very important for drives full of personal data.
IDG
Snappy Driver Installer checks whether your installed hardware drivers are up-to-date. The tool starts without installation. Click on the option "Download indices only" and wait until the system analysis is complete. Now, if desired, activate the "Restore point" field. To replace all obsolete drivers, continue by clicking on "Select all – Install" at the top left. Alternatively, check the obsolete entries individually. Due to the file sizes of some drivers, downloading and installing may take some time.
3. Windows Explorer, Desktop Tools and Remote Maintenance
Windows Explorer and the desktop are always used on a computer — even if mostly unconsciously. While Microsoft has equipped the file manager with tabs in Windows 11, you have to retrofit the file explorer tabs into Windows 10.
To do this, install Qttabbar, restart the PC, open Explorer, and click on the down arrow in the "View" tab under the "Options" symbol on the right. There, you activate the list entry "Qttabbar" to show the new tab bar.
The free version of Tidy Tabs allows up to three tabs in a window, across programs – for example, an Excel sheet, a Word document, and Outlook. It makes it easier to view pictures with a large preview that you start and close by pressing the space bar.
Treesize Free shows you at a glance which files are eating up space on your hard drive. The already mentioned Ccleaner also offers a quick search function for duplicate files ("Extras -' Duplicate Finder"). Other tools like Anti-Twin offer more options, but are more complicated to use.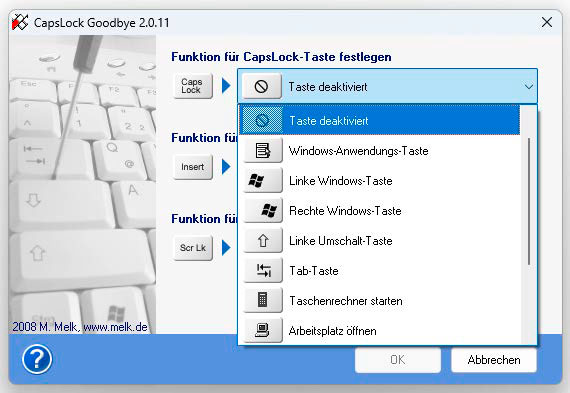 IDG
Clipboard Master can do more and is more convenient than the Windows clipboard. If you're annoyed by accidental clicks of the caps lock key, Capslock Goodbye is the tool for you. The software deactivates the key or assigns an alternative function to it. Desktop OK restores the icon placement on the desktop if it has been mixed up.
Three other programs provide more order (and more space on the hard disk): Should I Remove it shows which pre-installed software you can safely delete on new computers. O&O Appbuster makes it easier to remove Windows apps that hardly anyone needs. Unchecky prevents the secret installation of unwanted programs and toolbars. It's a godsend.
Remote help, i.e. "taking over" a remote computer via the Internet, is not only efficient, but also very simple with just one click in TeamViewer Quicksupport. The person who needs help starts the tool and gives his or her displayed ID and password to the helper. The helper takes care of the rest with the fully comprehensive Teamviewer software, which is also free for private use.
Changes to hard drives and partitions have a profound effect on your system and are often not easy to reset. Smaller tools can cause much less damage: Superdiskformatter, for example, allows you to change the file system (FAT32, NTFS, etc.) – except for the Windows partition. Fat32formatter formats almost arbitrarily large data media as a FAT32 system, and Drive Letter Changer is used to assign fixed drive letters to USB drives.
Raidrive assigns a drive letter to cloud storage devices such as Dropbox, Google Drive, and OneDrive for quick 1-click access in Explorer. To do this, select a storage service and a letter via "Add", log in with your login data and allow Raidrive to access the cloud. Done!
IDG
Cloudevo also simplifies the handling of online storage by combining diverse cloud storage pools into a single drive with theoretically unlimited capacity. This is also possible with several free accounts from the same provider. While you as a user only see your Cloudevo drive, the service behind it automatically distributes the stored data to the various cloud storage providers.
Drive pooling with local drives, for example with several USB drives, can be done with Liquesce. Data that is too large to be sent by email can be forwarded with O&O FileDirect. The software creates an access link to your PC, which the recipient can use to transfer the shared data. Your computer must be switched on and online during the transfer.
If Windows blocks access to certain files, thus preventing deletion, renaming, or copying, Lock Hunter releases them again. You can change other permissions of folders and files with Attribute Changer.
5. Security, data protection, and privacy
Have I been pwned? and HPI Identity Leak Checker are not programs to install, but a simple mouse click is enough here too. Just type in your email address and you'll know whether your account has been affected by one of the countless account and password hacks. If so, please be sure to change the corresponding password!
Defender UI provides a new, easier-to-use interface for all Microsoft security features than the integrated Windows Defender offers. The software contains four predefined security profiles and clearly groups together many security features and settings otherwise scattered throughout the operating system.
Virustotal Uploader simplifies the process of uploading potentially dangerous files to the Virustotal scanning platform. Instead of manually calling up the website, selecting the file. and uploading it, this free app works much faster via the Windows context menu. The browser plug-in I don't care about cookies eliminates the hassle of deselecting cookies on many websites by blocking or hiding the usual pop-up dialogues. It is best to combine the add-on with the automatic deletion of all cookies when you close your browser.
Wipe is suitable as a supplement for removing online traces. The software not only deletes browser data, but also temporary files and more.
You can securely delete data from your hard drive with Eraser: The name says it all.
Ungoogled Chromium is a special fork of the free Chromium browser, on which Google Chrome is also based. Unlike Chrome, Ungoogled Chromium does without any Google services for more privacy.
Simple Code Generator creates QR codes for private information that you wouldn't want to entrust to an online QR generator, such as mail addresses, Wi-Fi access information, Outlook or personal contacts, and the like.
Last but not least is USB-Logon. It lets you create a USB stick for fast and secure Windows logon without a password. USB-Logon is a good alternative for PCs without a Windows Hello-enabled webcam or fingerprint sensor.
Microsoft Powertoys offers many one-click functions
The Microsoft Powertoys tool collection has grown to over 20 amazingly helpful features, many of them with (almost) one-click operation. For example, "Always on top" keeps any program window visible in the monitor at all times; "Awake" switches off the power settings for a certain time; "FancyZones" allows multiple windows to be easily arranged even under Windows 10; the "File Explorer Add-Ons" show the contents for various file formats as a large preview; and "Image Resizing" changes the size of photos simply via the context menu. Also via the context menu, "PowerRename" functions allow automatic renaming of files.
Because we had to wait so long for it, the new PowerToys feature "Paste as plain text" is downright ingeniously simple. The keyboard shortcut Ctrl-Windows-Alt-V inserts the content stored in the clipboard unformatted into any program – ideal, for example, for quickly transferring web content into word processing.
This article has been translated from German to English and originally appeared on pcwelt.de.
link