Vivienne Mitchell's TikTok post is not particularly long but her message has travelled far.
"There are people in Australia right now who will have to work two hours to afford a pack of eight razors," her video starts.
It continues on to show the same pack of razors marked down at another shop for $10.
The video has been viewed more than 1.7 million times. It was posted in early July but has had a recent resurgence as more people take to social media with their anger after the big supermarkets announced their yearly profits.
"The sheer disbelief at how expensive it was to buy a simple necessity, like razors, I just couldn't believe the price tag that I saw," Miss Mitchell told the ABC.
"I think the reason people are outraged now is because lower-income people have always struggled but now people who were in the middle income are noticing."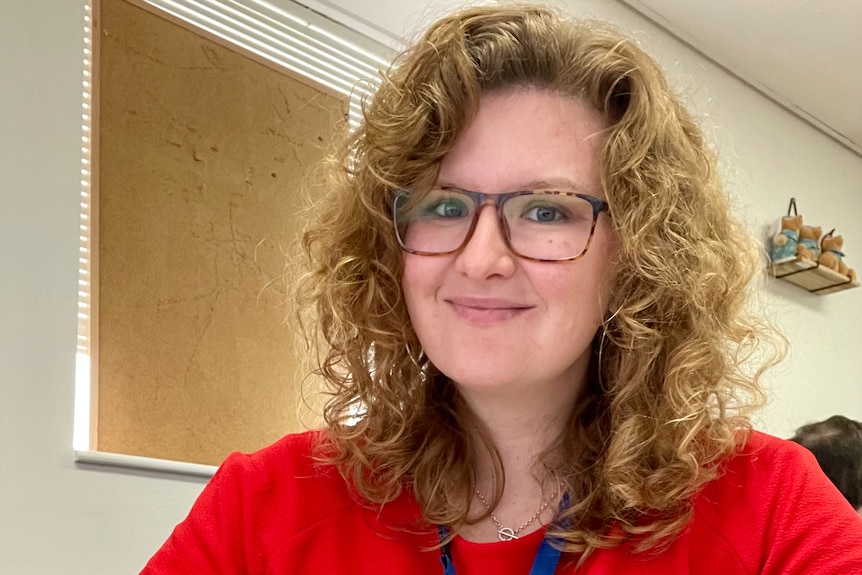 Miss Mitchell made a follow-up post showing four bulk-sized products — moisturiser, dishwasher tablets, shampoo and sunscreen — costing $135 at Woolworths that she found she could buy for $89.50 by shopping around at discount chains and online retailers.
There are many similar posts on TikTok, Instagram and Facebook railing against high prices and calling for a boycott of the big two supermarkets.
"I'm in a lot of Facebook groups about budgeting and every single day there's a post from someone saying 'look how little I got and I spent $70, $80, $100'," Miss Mitchell said.
"I think that if people can actually boycott, and they can boycott for a weekend or a week and they can join together, that could have an effect."
Billion-dollar profits likened to a lemonade stand
Queensland University of Technology retail marketing and consumer behaviour researcher, Gary Mortimer, said the backlash was not surprising.
"Maybe it's even more heightened this year because we understand that many families, many communities, are doing it tough," Professor Mortimer said.
"When food prices are going up and then you see the big profits, it's a tough pill to swallow."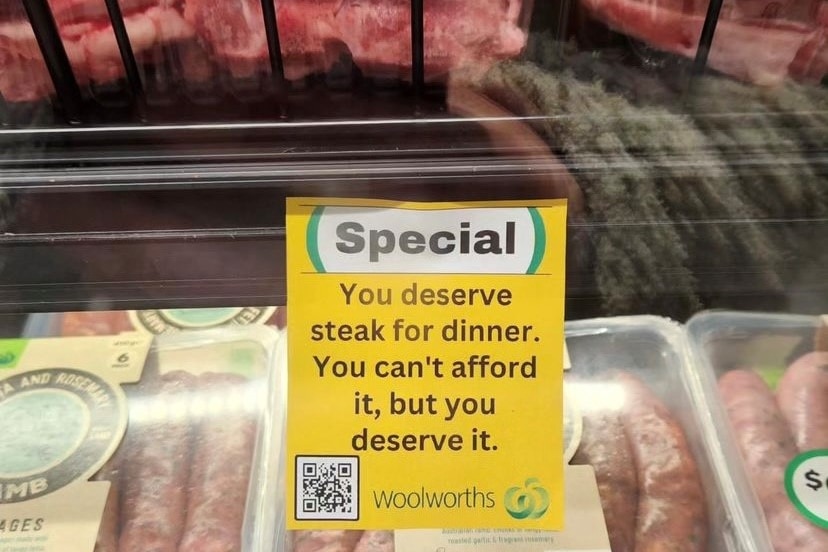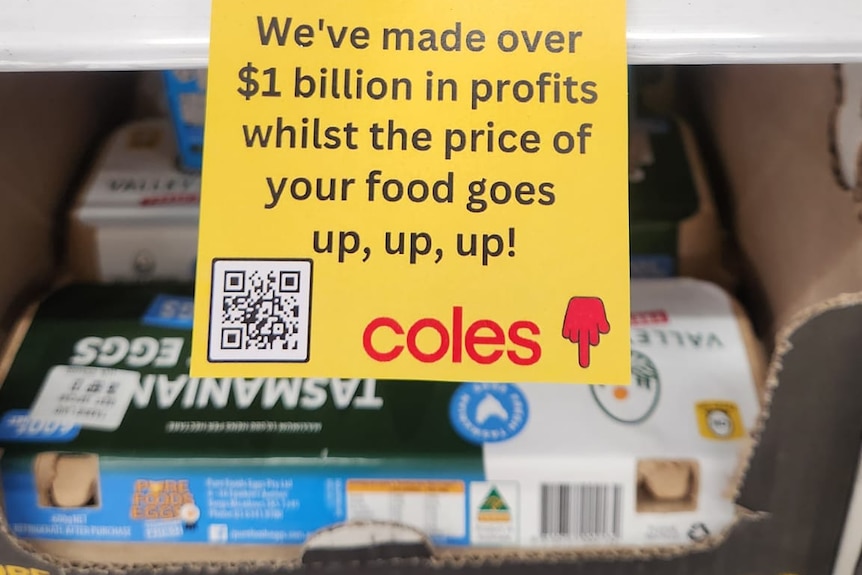 But he said the supermarkets' profits should be viewed in context.
He used the $1.06 billion profit posted by Coles as an example.
"They needed to actually generate $41 billion in sales to get there," he said.
"That would be like your kids spending the entire weekend on the footpath selling lemonade at a lemonade stand, coming in on a Sunday afternoon going 'Mum, I made $41'," he said.
"And you immediately take off them $40 to pay for their cost of goods, their table, their signage, and their lemons, and possibly even their juicer, and they're left with $1.
"And with that dollar, they then need to invest that into buying better signage and a better table and more lemons for next weekend."
He said he did not believe the social media sentiment would have a long-term effect on the supermarkets.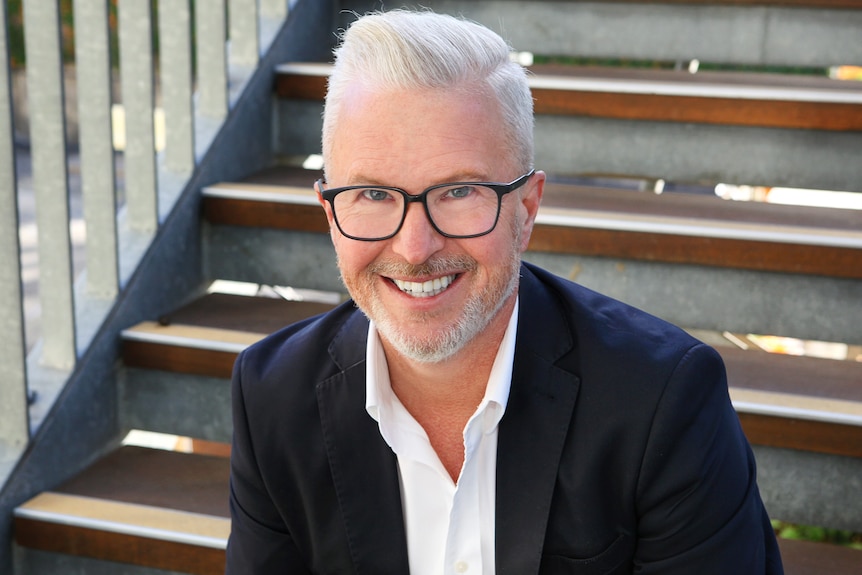 He pointed to a Roy Morgan poll which surveyed 2,000 people each month for a year on measurements such as a company's competency, ability to deliver on promises and efficacy.
For the year to June 2023, Woolworths was named the most trusted brand in Australia, with Coles ranked second — although it was projected to lose its position to Bunnings by the end of the year.
"In many cases, the public does like to bash up our big supermarkets and our big airlines, our big banks and our big insurance," Professor Mortimer said.
"[But] I think if you asked a reasonable person would they like to insure with an unprofitable insurer or fly with an unprofitable airline, I think they may choose the profitable option."
Big two acknowledge squeeze consumers are facing
Coles and Woolworths both acknowledged cost of living pressures were affecting their customers.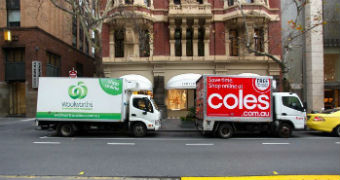 "Just last week, Coles announced it has brought down the price of more than 500 staple products for at least three months," a spokesperson said.
 "We value feedback from our customers and encourage them to let us know about their shopping experience through our normal feedback channel — Tell Coles — or through our dedicated Customer Care team."
Woolworths said it had reduced the price of 450 popular products and offered 6,000 specials every week.
"We're acutely aware of the cost of living pressures facing Australians right now, across almost every part of the household budget — from housing and electricity to groceries," a company spokesperson said.
"We work hard to earn and maintain our customers' trust. We'll continue to listen closely to our customers."
But are there alternatives, given the dominance of the big chains?
The latest data from market researcher IBISWorld showed Coles and Woolworths controlled 65.5 per cent of the supermarket sector in Australia.
Germany-based Aldi was the next biggest player, followed by Metcash which owns the IGA brand that acts as a conglomerate for the individually owned and operated stores.
The rest of market was split between the smaller player — Costco, which Professor Mortimer said was growing substantially — Foodworks and Amazon Australia.
"So there is choice out there," Professor Mortimer said.
"I don't think it's reasonable today to call it a duopoly when we've got many other players in the market."
But he said he believed Coles and Woolworths would continue their dominance.
"Consumers are creatures of habit and I know myself, despite having probably three supermarkets close to where I live, I tend to shop at the same supermarket because it's easy, it's habitual," he said.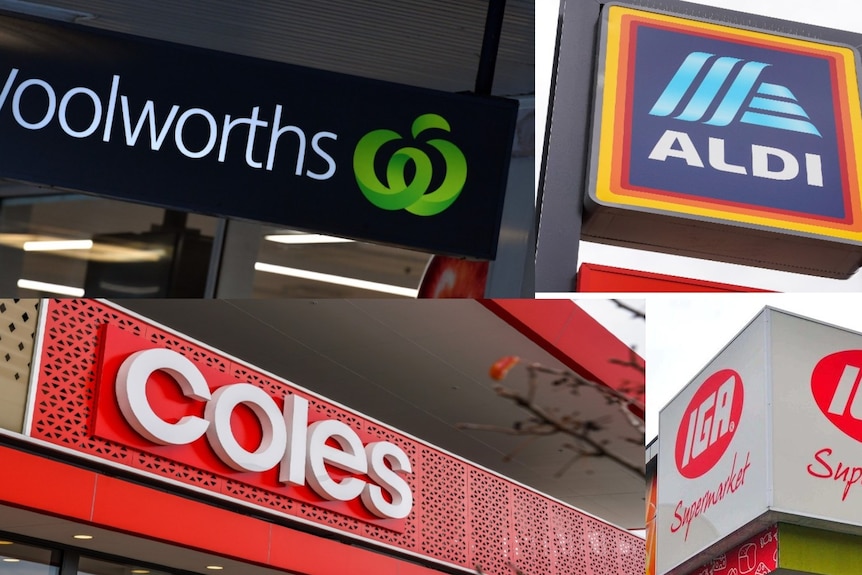 But TikTokker Vivienne Mitchell rejected the proposition that Coles and Woolworths face adequate competition.
"A lot of people in the comments [of my post] say 'I live in a regional or remote town, Woolworths is the only option we have within 50 or 100 kilometres'."
"The duopoly is so entrenched that I am not sure how we could come back from that without government intervention."
In Victoria, the Greens is calling for a state government inquiry into food affordability and the dominance of Coles and Woolworths, after its survey of 1,200 people found food prices were one of the most significant cost pressures that people were facing.
The Victorian government said competition policy was a matter for the federal government.
Shoppers share money-saving tips online
Amongst the angry and dark humour posts, TikTok users have offered their tips for how to save on grocery bills, making suggestions such as buying from wholesale meat distributors, fruit barns and independent grocery stores where they say they have found cheaper prices.
But what else can you do if those types of stores aren't near you?
Shoppers recently told the ABC they shop at local markets, cook meals that require less meat and shop around for cheaper prices.
Consumer group, CHOICE, suggests bulking up meals with legumes, buying frozen and tinned vegetables as well as frozen berries, and baking with overripe fruit.
It also suggests checking what food is still in your cupboard when deciding on a meal to cook.
And food rescue charity, OzHarvest has previously suggested comparing the unit price on supermarket tags, buying meat when it's on special to freeze, and consider generic brands.
link