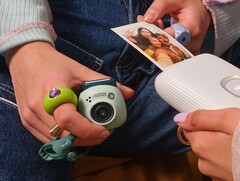 A few days back, we had reported on rumors of a "very small, all-digital" Instax camera, but incorrectly assumed that it would be a hybrid design like the mini Evo. Well, Fujifilm has just announced the new Instax Pal, and it is indeed a startling first for the Instax lineup, being the only all-digital camera that can't print its own photos. Instead, it pairs with Instax Link printers or hybrid Instax cameras for the actual printing, either directly or through a new smartphone app.
The Instax Pal sacrifices the practicality of a screen or viewfinder for a tiny, rounded, toy-like design which, paired with the five color options, should appeal most to kids and teenagers. On the front is the lens (a 16.25 mm equivalent, F2.2 with a 5 MP, 1/5" sensor behind it, if it matters), an LED flash and a small speaker. On the rear is the shutter button, a USB-C charging port, and a mode switch. There's even a tripod mount on the bottom. An included silicone ring can function as either a makeshift angled stand, or attach on the top as a very rudimentary viewfinder. A protective silicone case comes as an optional extra.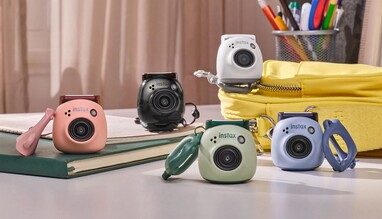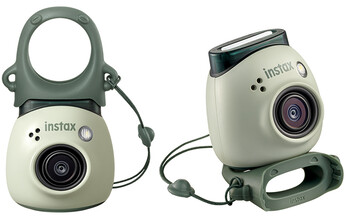 The internal memory stores up to 50 photos, though a microSD card can increase this limit. Once paired to the (soon to be launched) Instax Pal app, the camera sends photos to your phone where they can be edited and selected for printing. For a more 'instant camera' experience, the 'Link mode' bypasses the app and prints directly from an Instax Link printer (or hybrid camera) immediately after clicking the picture.
The camera can print to any of the three Instax film sizes – mini, square or wide. Using the app allows remote shooting with live view and applying filters and frames before or after shooting. It also lets you record your own 'pre-shutter sounds', which are played through the camera's speaker before each click.
As strange a device as this is, it's not hard to see where the company is coming from. The Instax brand is as tremendously popular as it is profitable, and Fujifilm is doubling down on the fun appeal of the brand to target a younger audience. The Instax Pal will come bundled with the mini Link 2 printer and a 10-pack of films for US$199, in late October.
It's a bit of a stretch to imagine spending extra for the camera when you can just use your smartphone camera with the US$100 printer, especially since you need the app on your phone to get the most out of the camera anyway. Still, the Instax Pal has cutesy, quirky charm in spades, and possibly that's all Fujifilm needs to win customers over. Those looking for a true instant camera with built-in printing can buy the Instax Mini EVO hybrid instant camera on Amazon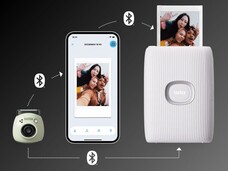 I've always been interested in technology, but it was my passion for music-making and photography that led me to dive deep into audio and imaging technology and understand all the tools that had fascinated me. I hold degrees in electronics engineering and business management, and have worked as a software developer as well as in marketing. Apart from being an amateur musician and photographer, I enjoy reading books, being outdoors, cooking and lately, running.

link