GITEX Global 2023 witnessed Huawei's impactful presence, as the tech giant delved into the future of intelligent networking. Under the theme of "Intelligent Cloud-Network, Accelerating Industry Intelligence," Huawei's data communication session showcased their vision for the future of networking, addressing the need for high-quality, ultra-fast connections and intelligent solutions.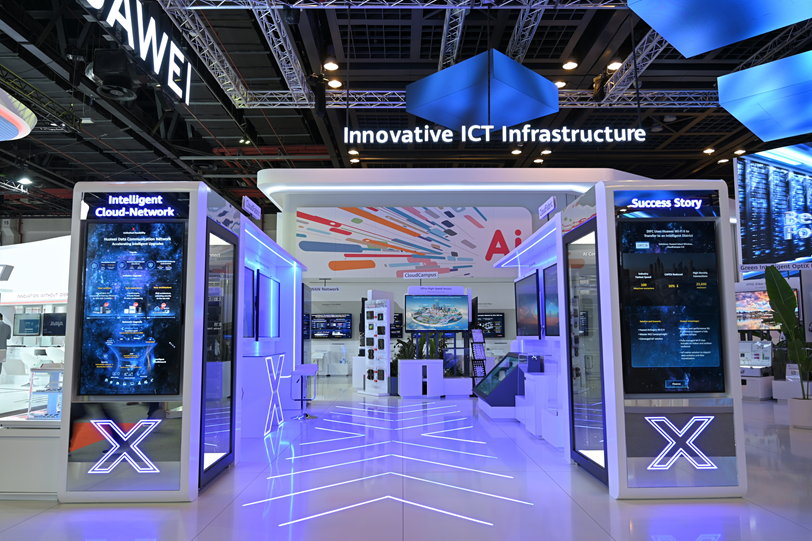 Huawei
As digital-first and smart upgrades become the norm across the globe, enterprises and countries alike are embarking on the journey of intelligent transformation. Huawei, with its global presence and extensive campus facilities, has positioned itself as a key player in this transformation. During the event, Shawn Zhao, President of the Campus Network Domain at Huawei's Data Communication Product Line, provided insights into how Huawei aims to boost industry intelligence with High-Quality 10 Gbps CloudCampus.
Intelligent transformation is accelerating due to the proliferation of smart devices, surging audio and video traffic, and the ever-growing demand for higher bandwidth. This landscape presents significant challenges for enterprise campus networks in terms of bandwidth, user experience, and network maintenance.
In response to these challenges, Huawei introduced the High-Quality 10 Gbps CloudCampus Solution with a multifaceted approach. It encompasses ultra-high-speed access, delivered through Huawei's AirEngine Wi-Fi 7 products, which provide lightning-fast speeds of up to 18.67 Gbps, ensuring a seamless wireless experience. Additionally, the solution offers the ultimate experience with its multi-dimensional assurance system, ensuring consistent network performance across all terminals and access modes, making it advantageous for enhancing large campus video conferencing experiences. Furthermore, Huawei has introduced a groundbreaking feature in the form of a digital map for campus networks, which empowers real-time monitoring and quality management at various network levels. This innovation significantly enhances network O&M experience.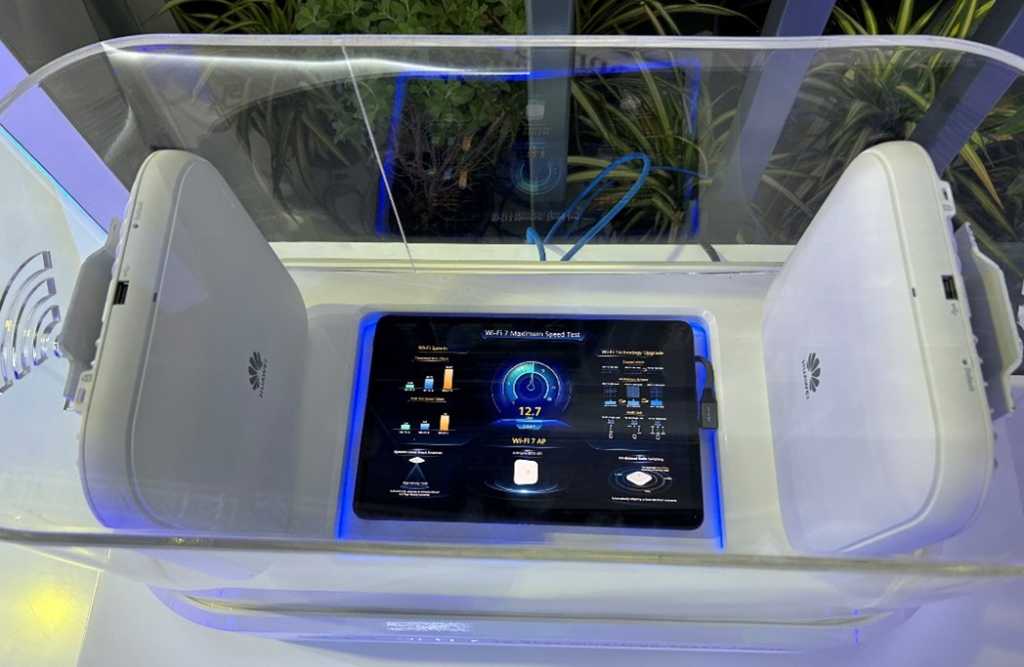 Huawei
Huawei's commitment to propelling high-quality 10 Gbps campus networks into the intelligent future is evident. The company recognizes the potential for industry transformation, and its solutions aim to support businesses on their journey toward intelligent networking.
At GITEX Global 2023, Huawei also explored opportunities in the IP business, focusing on collaboration and growth. The IP Club Roundtable, themed "Unlimited IP Business Opportunities, Win-Win for Intelligent Future," brought together over 70 partners from various regions to discuss the prospects of the datacom commercial market.
Vincent Liu, President of Huawei's Global Enterprise Network Marketing & Solution Sales Department, emphasized the significance of the Middle East and Central Asia region as one of Huawei's most important markets. The company's commitment to a partner-centric approach and its reshaping of capabilities in R&D, sales, and services demonstrate a focus on delivering tailored solutions.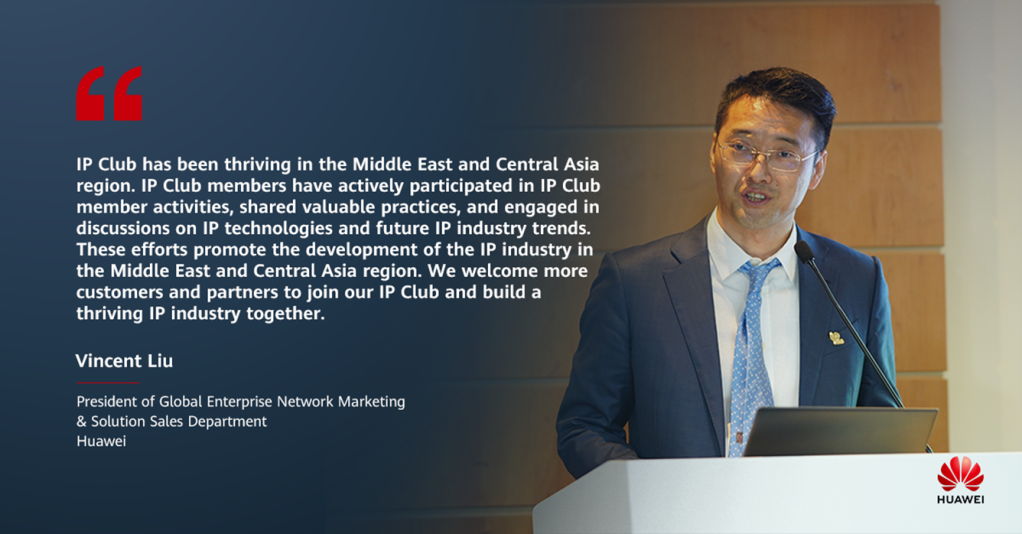 Huawei
Huawei's High-Quality IP Network solutions, designed for government, education, healthcare, and the hotel industry, offer comprehensive coverage and cost-effectiveness. These solutions cater to the specific needs of each sector, providing efficient and reliable network services.
In the government sector, Huawei offers the High-Quality Government Small & Medium Scale Campus Office Network Solution, ensuring smooth video conferencing experiences. The education sector benefits from the High-Quality Primary and Secondary School Network Solution, which simplifies network deployment and evolution. In healthcare, the High-Quality Small and Midsize Hospital Network Solution supports IoT services, facilitating healthcare IoT with improved quality. Lastly, the High-Quality Hotel Network Solution enhances guest experiences through smart antenna technology, delivering more extensive Wi-Fi coverage.
The success stories shared during the event and the recognition of "Best Huawei IP Sales Award," "Huawei IP Market Breakthrough Award," and "Huawei IP Marketing Award" underscore Huawei's commitment to supporting the digital transformation of small and medium-sized enterprises globally.
In the data center domain, Huawei's Super-Connectivity 400GE CloudFabric Solution steps up to confront the challenges arising from the surging demand for intelligent computing. As AI applications continue to proliferate and cloud-based architectures undergo transformation, data centers find themselves in a new era of collaborative infrastructure. Three pivotal challenges have emerged. Firstly, network connectivity stands out as a critical concern. The expansion of parameters, exemplified by the transition from GPT-3 to GPT-4, necessitates an efficient network infrastructure to support the effective training of these models.
Huawei
Secondly, deployment efficiency becomes a key consideration in the era of multi-cloud architectures. Cross-vendor deployments require seamless integration to ensure the smooth operation of data centers. Lastly, operational efficiency becomes paramount with the advent of cloudification in data centers. Expenditure uncertainties can lead to wasteful investments and uneven resource utilization, underlining the importance of efficient resource management.
Huawei's Super-Connectivity 400GE CloudFabric Solution offers a future-oriented approach to tackle these challenges. The solution's highlights include ultra-powerful performance, ultra-fast deployment, and ultra-intelligent operations, addressing these challenges efficiently. The solution is ideal for large-scale data center networks in various industries, including finance, government, education, transportation, and manufacturing. It plays a pivotal role in accelerating digital transformation across sectors.
The future of networking, as envisioned by Huawei, is one where high-quality, ultra-fast connections and intelligent solutions are at the forefront, shaping the way we work, communicate, and innovate.
Find out more on what Huawei can do for your organisation here.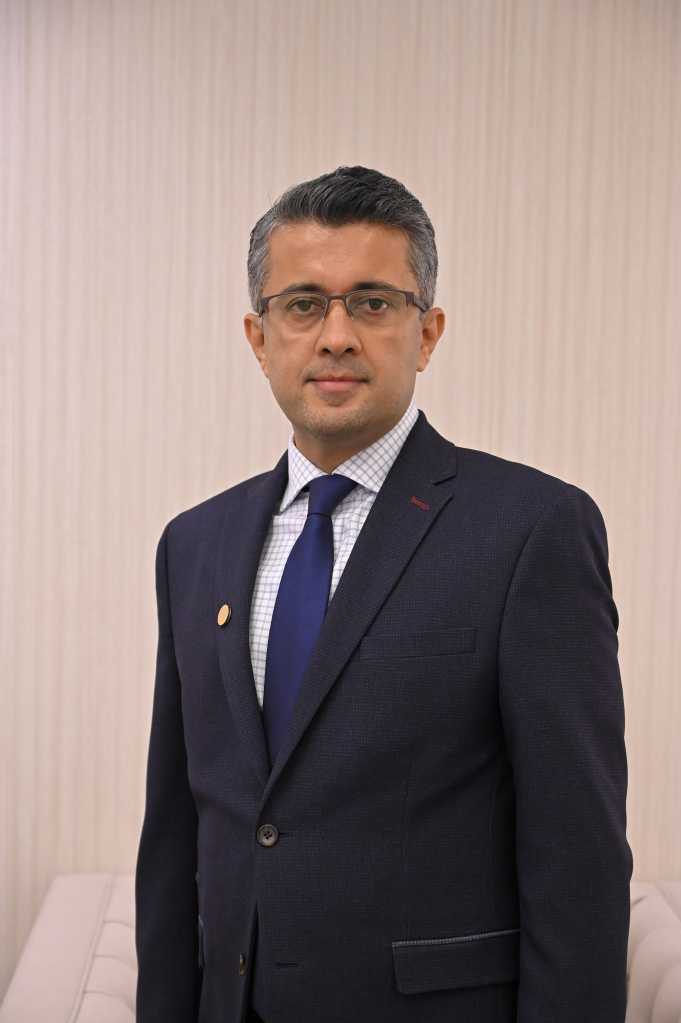 Faisal Malik, CTO of Huawei Enterprise Middle East and Central Asia
link