The psychologist went to the courts to stop the College of Psychologists of Ontario from putting him through social media training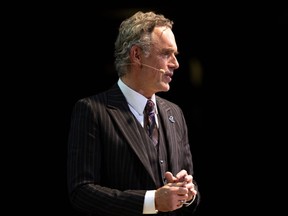 Article content
Jordan Peterson will soon find out if the courts will stop the College of Psychologists of Ontario from requiring him to undergo social media training, which was ordered in response to public complaints about his online conduct.
The Ontario Divisional Court will release its decision on Wednesday.
Article content
In January, Peterson posted a document on social media that detailed a number of complaints that had been made to the college, which raised concerns about how Peterson, who's a regular media commentator on current affairs, was comporting himself online.
In particular, there were complaints about his tweets regarding a plus-sized Sports Illustrated model, who Peterson said was "not beautiful," Elliot Page's gender transition, about which Peterson said Page's breasts were "removed by a criminal physician." That tweet got him suspended from Twitter for hateful conduct; Peterson said he would "rather die" than apologize. As well, Peterson's skeptical views on climate change, and conduct during a heated exchange with Gerald Butts, Prime Minister Justin Trudeau's former principal secretary, resulted in public complaints.
Several other complaints, detailed in the document, had to do with psychological practices, such as mandatory reporting of child abuse or neglect, and treatment of eating disorders and gender dysphoria and the discussion of suicide.
Article content
The college is responsible for governing psychologists in Ontario. In response to the complaints about Peterson's conduct, the college ordered Peterson to undergo social media training, at his own expense, or risk the suspension of his licence to practice in Ontario, after asking him to do so voluntarily, and being met with refusal.
Christine Van Geyn: College of Psychologists attacks Jordan Peterson in court

Rex Murphy: Jordan Peterson's foes need their heads examined
Peterson has argued that his political commentary is not subject to the college's authority.
Peterson, who's a professor emeritus of psychology at the University of Toronto, remains registered as a clinical psychologist, although he has not practised since 2017.
In response to the college's findings, Peterson sued.
"We decided that the best way to challenge this would be in the courts on constitutional grounds," Peterson, who is also a podcast host on the right-wing Daily Wire network, told Postmedia in January. "I don't trust the process at the college and no one should."
The legal application Peterson filed quotes the college as being "very concerned that looked at cumulatively, (Peterson's) public statements may reasonably be regarded by members of the profession as disgraceful, dishonourable and/or unprofessional." Personal behaviour, the college notes, is only of concern if that behaviour "undermines public trust in the discipline as a whole or if it raises questions about the psychologist's ability to" carry out their duties.
Article content
The report from the college is 446 pages. In January, Peterson posted 56 pages online. It's unclear what information has been redacted. Peterson alleges in the document that some of the complainants have falsely claimed that they are his clients. Their names are redacted.
The legal document Peterson's lawyers filed argues that Peterson's statements are "far removed from the practice of psychology," and, as such, the College's decision "was unreasonable and unduly infringes upon (Peterson's) free expression in contravention of his Charter rights."
"Regulating this type of speech from College members, including disciplining College members for making these types of statements, is an inherently and categorically unreasonable limitation of members' freedom of expression," the application says.
Peterson is "a proponent of free and open expression, frank dialogue, and political commentary," the document says. The comments that concerned the college were brought to the attention of the college "not by patients or colleagues, but members of the public who object to (Peterson's) opinions."
Our website is the place for the latest breaking news, exclusive scoops, longreads and provocative commentary. Please bookmark nationalpost.com and sign up for our daily newsletter, Posted, here.
link