The T5 EVO is Samsung's latest offering which aims to deliver a large amount of storage at a reasonable price. It has certainly managed to do this with the help of enhanced V-NAND technology pushing the storage up to 8GB. This makes it the world's largest portable SSD to boast 8TB capacity, surpassing the largest capacity HDDs with 2.5" form factors. 
Samsung T5 EVO: Specifications
Interface: USB 3.2 Gen 1 (5 Gbps)
Capacity: 2TB, 4TB, 8TB
Performance: Sequential Read Up to 460 MB/sec. Write Up to 460 MB/sec
Drop rating: Up to 2m
Security: AES 256-bit hardware encryption
Operating temperature: 0°C to 60°C
Non-operating temperature: -40°C to 85°C
Weight: 102 g
Size: 40 x 95 x 17mm
The design is compact, light, and ergonomic making it a pleasant device to look at and hold. At only a couple of grams over 100 the T5 Evo is incredibly easy to move around and does away with the need for much bulkier external hard drives that we've become accustomed to in years gone by.
There aren't a huge number of features to talk about, it is an SSD at the end of the day. It stores and transfers data and it does it pretty well.
It comes in three different sizes, 2TB, 4TB, and 8TB so you can pick an option to suit your needs. The read/write speeds are up to 460 MB/sec which is okay but not great – more about that in the performance section below.
The interface is USB 3.2 Gen 1 (5 Gbps) which is pretty standard for this type of device and comparable with competitors. The device has a drop rating of 2m which is fine considering most users won't be storing an SSD any higher off the ground than that.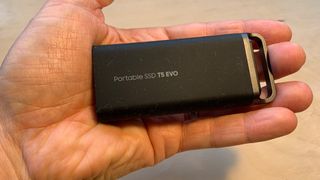 Samsung T5 EVO: Design & Handling
The T5 EVO is a really nice feeling device. It is incredibly compact considering it packs in 8TB of storage data. Understandably, it's not as light as a USB flash drive or even a handful of them but the weight of it makes it much more comfortable to hold in your hand and position reliably on your desk.
The device boasts a metal ring at the opposite end of the connector port. This is supposed to enable it to be attached to bags and luggage but I'm not sure who would want their precious data being attached to something that could easily be lost or stolen. It's also way too big to carry around on a key ring.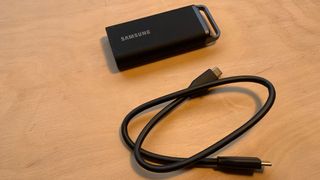 The main body is covered in a soft-touch grip material which is perfect for a portable device that you don't want to drop. It feels comfortable in one hand but the downside of the material is that it gathers dust remarkably easily. That wouldn't be too bad if it would easily wipe off but unfortunately, it doesn't. Even taking it out of the box seemed to instantly attract a tonne of unwanted dust. This obviously isn't a problem with the performance of the device but if you want something that will always look beautiful then look elsewhere.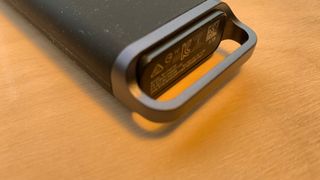 Samsung T5 EVO: Performance
One of the good things about comparing these types of devices is that there are not a huge number of performance factors to take into consideration.
One of the main performance figures to be concerned about when picking an SSD is the sequential read and write speeds. The T5 Evo manages up to 460 MB/sec for both reading and writing files. The satisfaction of this speed really depends on how large the files are that you're going to be typically transferring. Moving a few GB around will only take a matter of seconds whereas multiple TB of data will take much longer.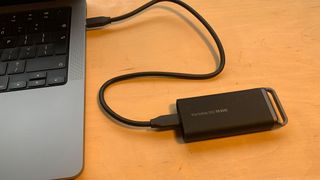 If speed is vital for your workflow then 460 MB/sec falls woefully short to a number of competitors including Kingston who make the XS2000. This alternative includes lightning-fast transfer speeds of up to 2,000 MB/sec, over 4 times quicker.
The device has a drop rating up to 2m which is pretty standard and perfectly sufficient for the height that most people will be using it. It wasn't something that I tested, for obvious reasons, but the robust engineering and premium materials leads me to believe the device would be fine if dropped at this height. 
If temperature is important to you then the T5 Evo actually performs significantly better than the Kingston XS2000. The former can operate between 0°C to 60°C compared to 0°C~40°C for the latter. In terms of storage temperature the T5 Evo has a larger range at -40°C to 85°C compared to -20°C~85°C for the Kingston.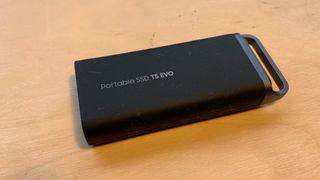 Samsung T5 EVO: Final Verdict
The T5 Evo is pretty middle of the market when it comes to external portable SSDs. It comes in 2TB, 4TB, and 8TB configurations which is a significant amount of storage in such a small form factor. The drop rating of 2m and operating temperature of 0°C to 60°C make this a well-engineered device. The only area this SSD is let down by is the read/write speeds of 460 MB/sec. This will be fine for a lot of consumers but if speed is paramount to your workflow then you'll want something like the Kingston XS2000.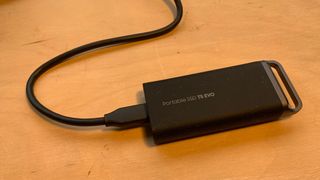 You might also like…
The Kingston XS2000 is one of the T5 Evo's main competitors. It is at a similar price point but boasts much higher read/write speeds of 2,000 MB/sec, over 4 times the speed. Western Digital offers similar transfer speeds as the XS2000 but comes at a much higher price. 
link