What you need to know
Microsoft released its FY23 Q2 earnings report today.
The company brought in $52.7 billion in revenue (up 2%).
The More Personal Computing division got hit harder than expected due to the declining PC market.
Surface (Devices) and Windows OEM revenue were both down 39%, with Devices worse than last quarter's guidance.
---
The PC market is dropping off a cliff, and Microsoft feels the hurt. While the company is up just 2% in overall revenue at $52.7 billion for FY23 Q2 (opens in new tab) (just below some street expectations), the More Personal Computing division has been hit particularly hard.
More Personal Computing, which includes Surface, Windows, Xbox, and Bing, earned $14.2 billion, down 19% year-over-year. Microsoft had given investors guidance of $14.5 to $14.9 billion US dollars meaning Microsoft is in a bit more trouble in these areas than anticipated.
Windows OEM licensing revenue declined by 39%. While that is not great, Microsoft's guidance did say Windows OEM expects income to fall "in the high 30s", which is in line with what was delivered. Of course, such a significant decline is never welcomed, but Microsoft wasn't caught off guard by the number and is within expectations.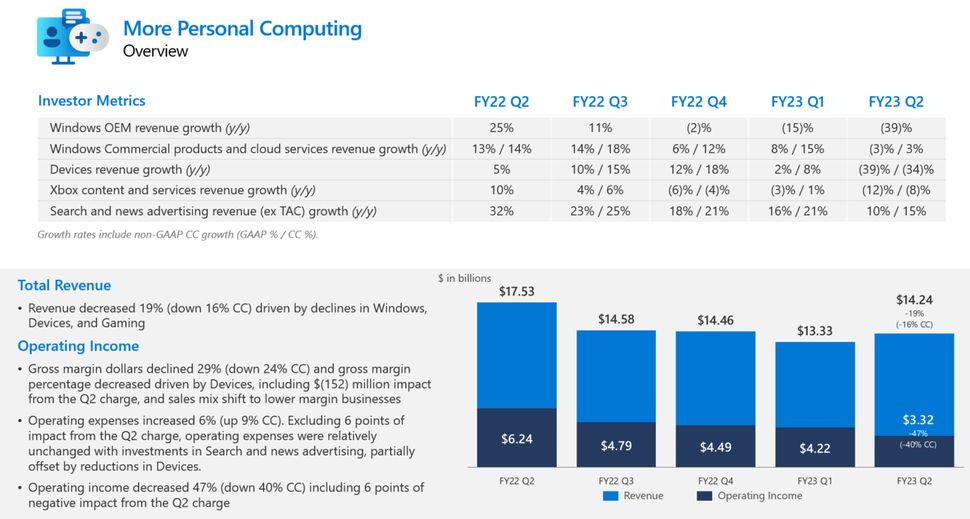 Surface (Devices), however, was hit a bit harder. It, too, declined by 39% (it was up 2% last quarter), although Microsoft had estimated "approximately 30 percent" for the quarter, making that a big miss. The number suggests that Microsoft's latest offerings of Surface Laptop 5, Surface Pro 9, and Surface Studio 2+ failed to convince consumers to fork over some money. And with no Surface Duo 3 in the portfolio to launch, there was undoubtedly less excitement.
Xbox and gaming also took a big hit, with a 13% decline year-over-year in revenue. 
Search (Bing) and news advertising revenue grew 10%, driven by "higher search volume." Search and news advertising will be interesting to watch as Microsoft is expected to build some ChatGPT components into its growing search toolbox.
In more positive news, Microsoft Cloud's revenue was $27.1 billion, up 22% year-over-year. Azure revenue grew 31% "driven by strong demand for our consumption-based services."
We'll update this post with Microsoft's outlook for More Personal Computing for FY23 Q3 during the investor earnings call.
Window Central's Take
Much of this news is not surprising as a return to normalcy in the PC market, inflationary pressures, a looming recession, recent job cuts in tech, uncertainty in world affairs, and a somewhat lackluster Surface portfolio make an unfortunate combination.
Nonetheless, Microsoft must refocus on Surface to deliver more cutting-edge hardware. Surface Laptop and Surface Studio, while both excellent products are getting a bit stale compared to HP, Lenovo, and Dell these days. 
Still, the fact remains that the PC market is dipping down to pre-pandemic levels (although arguably higher overall than before). There is not much to be done for Microsoft except to focus on its growth areas (cloud, AI, enterprise) and wait for the PC market to rebound once it is more favorable to consumers sometime in late 2023 or early 2024. 

link